What We Do
Our Approach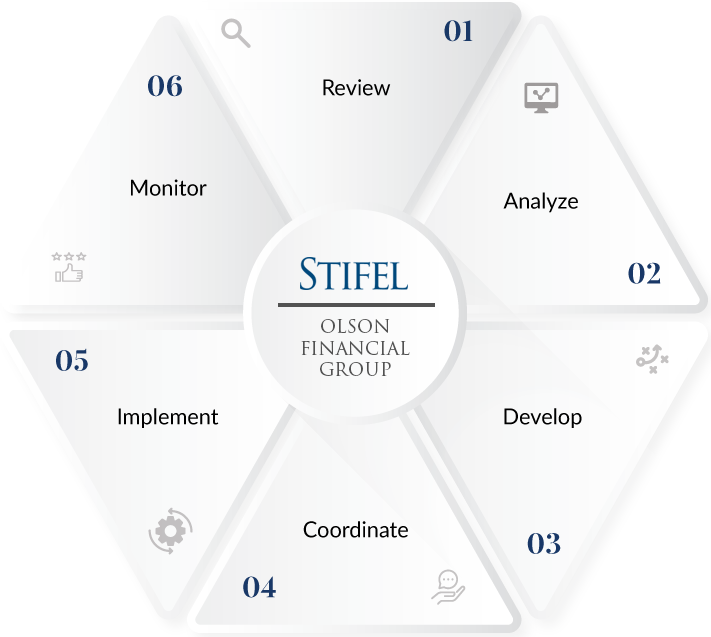 No two clients or situations are alike, and at Olson Financial Group, no two financial plans are alike either. We take into account your needs, risk tolerance, and objectives, and provide custom-tailored strategies to help you pursue your goals. Though the specific plans are different for every client, the comprehensive process we follow to develop them is always the same.
Step 1:

Understanding You and What You Want

You and your financial situation are unique, so it is vital that we understand it rather than trying to apply another's situation to you. This initial meeting is the first step we take with any client, as it is vital to understand what your short- and long-term goals are, and how you hope to achieve them. The in-depth questions we ask will all work toward achieving that understanding so we can provide the most detailed recommendations possible.
Step 2:

Analyzing Your Current Planning

After the review phase comes the analysis phase. In this stage, we will establish milestone goals to work toward along the way to your ultimate goal. Breaking down a large goal into smaller tasks can help you avoid information overload and trying to take on too much at once. Along the same lines, setting specific deadlines can also help you accomplish what you need to do. The ultimate purpose of this phase is to identify what is realistic and achievable, what ideas may need to be tweaked, and what goals may need to be dropped for the greater good.
Step 3:

Developing Your Plan

In the third step, we use information from the first two steps to come up with a plan to help you work toward your goals. This plan will involve the recommendation of the specific steps you need to take in order to move forward with clarity and confidence. The process of developing the plan is collaborative, and we will make sure you understand all the options available to you so that you can make a fully informed decision.
Step 4:

Coordinating Your Team

It is much easier to make your goals a reality if everyone is on the same page. That is why, in the fourth step, we will work with you to synchronize your financial and insurance planning with any other trusted professionals you work with, such as attorneys and accountants. If you do not have those trusted pieces in place, we will gladly make referrals as needed.
Step 5:

Implementing Your Plan

The fifth step is all about implementing the plan we've come up with in collaboration with you. Though the plan is yours, you can think of us as a devoted financial advisor who will be by your side to help make it successful. We don't simply give you a plan and then leave you alone to tackle it.
Step 6:

Monitoring Your Plan

Life is not stagnant, so as it changes and evolves, your financial plan should change and evolve with it. We'll monitor everything we've implemented for you and keep in touch periodically to make sure that we're making the right recommendations for adjustments for every stage of life.
Common Services
Retirement Planning
Traditional IRA
Roth IRA
SEP IRA
SIMPLE IRA
401(K) Plans
403(B) Plans
Profit Sharing Plans
Defined Benefit Plans
Insurance
Term Life Insurance (Individual & Business)
Whole Life Insurance (Individual & Business)
Long Term Care Insurance
Disability Insurance (Individual or Group)
Annuities
Equity
Investments
Common Stock
Mutual Funds
Exchange Traded Funds and Notes
Options
Syndicate Offerings
College
Planning
529
Education Savings Account
Fixed Income
Investments
Certificates of Deposit
Collateralized Mortgage Obligations (CMOs)
Corporate Bonds
Government & Agency
Municipal Bonds
Preferred Stock
Financial &
Wealth Planning
Money Guide Pro
Stifel Wealth Tracker / Stifel Wealth Navigator
Stifel Trust
Trust Management and Administration
Asset Allocation
Other/
Miscellaneous
Cash Management (Stifel Prestige Accounts)
Check Writing
Debit MasterCard
Bill Payment Services
Consulting Services (Fee-Based Programs)
Corporate Executive Services
Cashless Stock Option Exercise
Control and Restricted Stock Transactions
Corporate Finance
Business Owner Needs
Managed Money
Public Finance
Money Purchase Plans
Unit Investment Trusts
Trust services are provided by Stifel Trust Company, N.A., a wholly owned subsidiary of Stifel Financial Corp. and affiliate of Stifel, Nicolaus & Company, Incorporated, Member SIPC & NYSE. Unless otherwise specified, products purchased from or held by Stifel Trust Company, N.A. are not insured by the FDIC or any other government agency, are not deposits or other obligations of Stifel Trust Company, N.A., are not guaranteed by Stifel Trust Company, N.A., and are subject to investment risks, including possible loss of the principal invested.